Case Study: Dental Implants
Computer guided implant surgery has taken a significant step forward in today's dental implant industry. This technology allows dentists to visualize the interior sections of the jaw bone, surrounding tissue and the nerves in 3D. It simplifies implant placement and restoration while offering greater patient satisfaction. This advanced treatment is made precise, easy and affordable through Blue Sky Bio's 3D planning software and VirtualGrid's STL editing technologies.
The computer guided surgical process includes the fabrication of the scan appliance, the CT scan, a treatment plan being prepared, a surgical template being fabricated, and of course the surgery. Blue Sky Bio, manufacturer of dental implants and accessories provides Blue Sky PlanŠ, a full functioning treatment planning software. The Blue Sky Plan software loads the images of CT scan. During the process, the implants can be properly positioned, critical anatomy can be located and marked, and the overall anatomy can be reviewed. Once the digital treatment plan has been completed, the file can be exported into a STL file for the surgical template fabrication.
The STL file needs to be edited and repaired before it is ready for 3D printing. VirtualGrid, an innovative technology company, has developed VRMesh Design software providing best-in-class STL file repairing and editing capabilities. The advanced features include functions such as extrusion, Boolean operation, offsetting, clipping, hole filling, labeling, automatic error analyzing and fixing, etc. A sample workflow of processing STL files in VRMesh Design is described below.
Step 1: Prepare the drill guide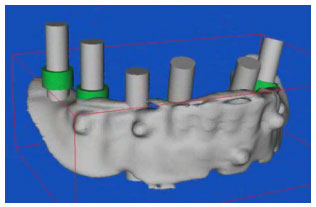 Step 2: Cut the actual holes based on the tube placing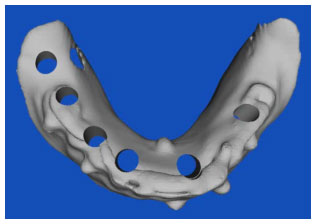 Step 3: Check and fix errors automatically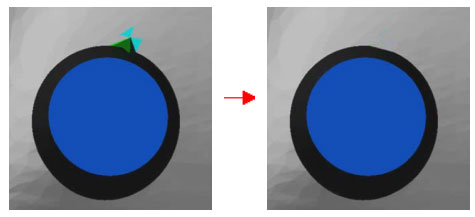 Step 4: Cut down the top of the stent to expose the tops of all the tubes